I was part of the Momentum Sea Quartz 30 May preorder which arrived a couple of weeks ago, along with the stainless steel bracelet. I've been anticipating this since January. For the preorder price of $195, I think it was a steal.
Even though though I'm not particularly into quartz watches anymore (I more prefer a nice automatic movement) here are a few things that drew me to the Sea Quartz 30. The Magnum PI association, the overall design, the lume, the sapphire crystal, etc. Having owned Momentum watches before, I knew I can expect a solid build quality.
A couple of years back, I owned a Stowa TO1. I loved everything about that watch, but in the end I found it to be too massive for my skinny wrist. That watch came with one of the best rubber straps. It was a fitted rubber strap, smelled like vanilla, and could withstand anything it was built so well.
I found out that you can get those exact straps from WATCHBANDCENTER (WBC). It's the My Sportivo lineup. I believe Stowa and WBC might be using the same manufacturer - both companies being out of Germany.
After I looked closer at the Sea Quartz 30's stainless bracelet I realized that the clasp might work with those My Sportivo straps from WBC.
I ordered the "Emden" Camouflage 20-18mm to try. The strap was waiting for me when I got home today. I resized it, threw it on the Sea Quartz and the result is... well, you be the judge.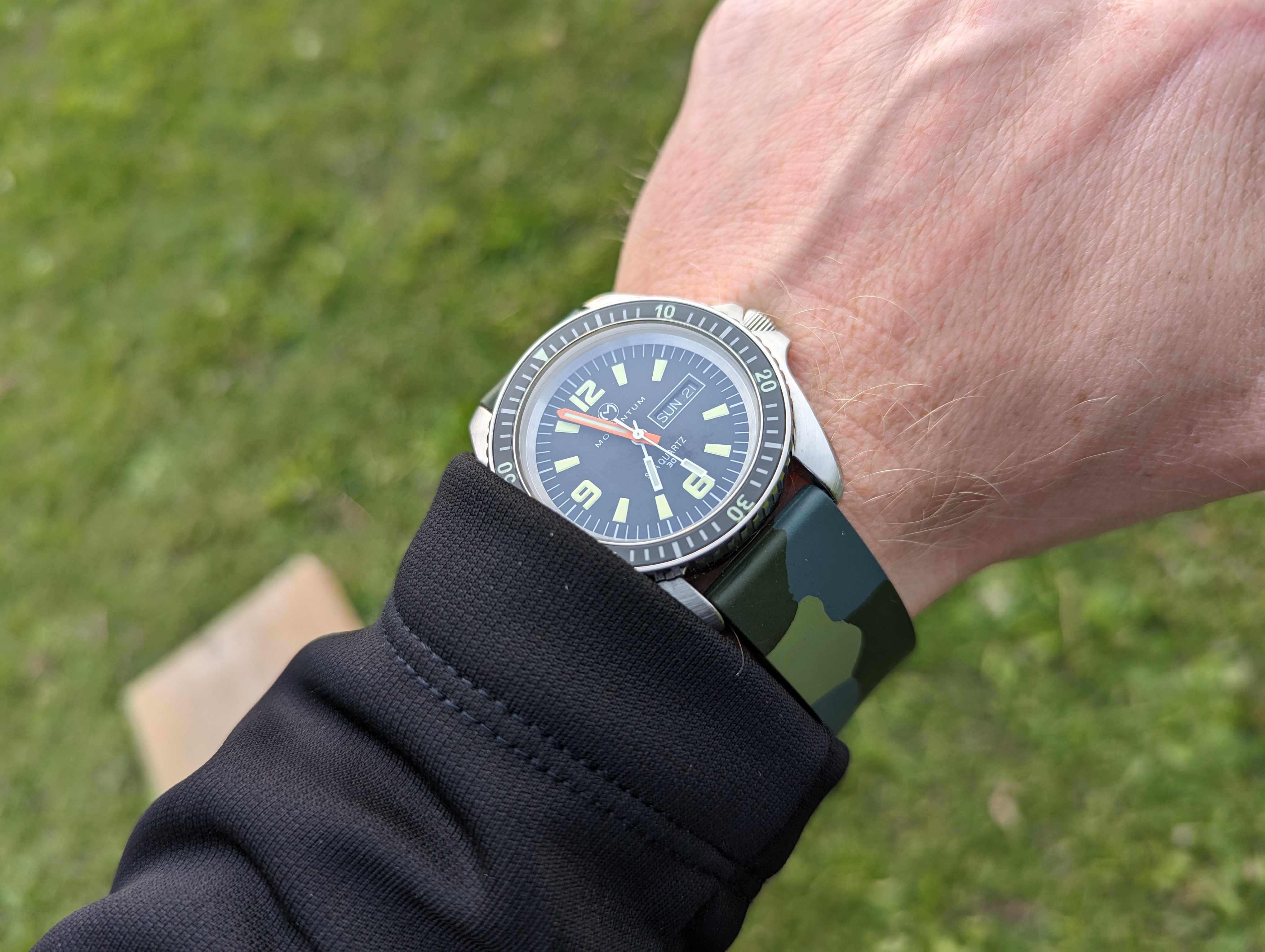 If you're not into the camo print, there are lots of other options. Check out the rest of the lineup. The size you'll need for your Sea Quartz is the 20mm lug width (18mm at the buckle).
Update 2023-06-27: I ordered an orange one of these. See video below. I think that's the winning combination to date. These rubber straps are amazing.